4May 2021
Having endured deserted downtown Minneapolis streets and several shattered windows in the past year, Rosenthal Interiors—a Warehouse District fixture for more than 125 years—is finally succumbing to the suburbs. The city's oldest furniture retailer will open a second location next week in Minnetonka, across the street from Ridgedale Center.
"It used to be that parking was our big issue, then it was the one-way streets," said owner Rosie Rosenthal, who faced downtown challenges as the lone retailer among First Avenue's bars and restaurants even before Covid-19 emptied the sidewalks. "But downtown has become a nightmare for people who want to shop with us. Covid, then riots, then the trial [of Derek Chavin]. In the course of a week, we may get 15 people in the door. That can't sustain us."
Adding insult to injury, Rosenthal watched last year as furniture sales soared industry-wide while people were spending more time at home. Room & Board, Blu Dot and HOM all beat their 2020 sales projections and the growth continues in 2021. Rosenthal Interiors missed out entirely, Rosenthal said. "We did some phone orders, but furniture is something you still want to see and touch." Rosenthal stopped taking a salary to hold on to her eight employees. Her brother Joel Lebewitz came on as chief financial officer to help balance the books.
"I said to my brother, 'we could go almost anywhere and do more business than this,'" Rosenthal said. "We had to bite the bullet."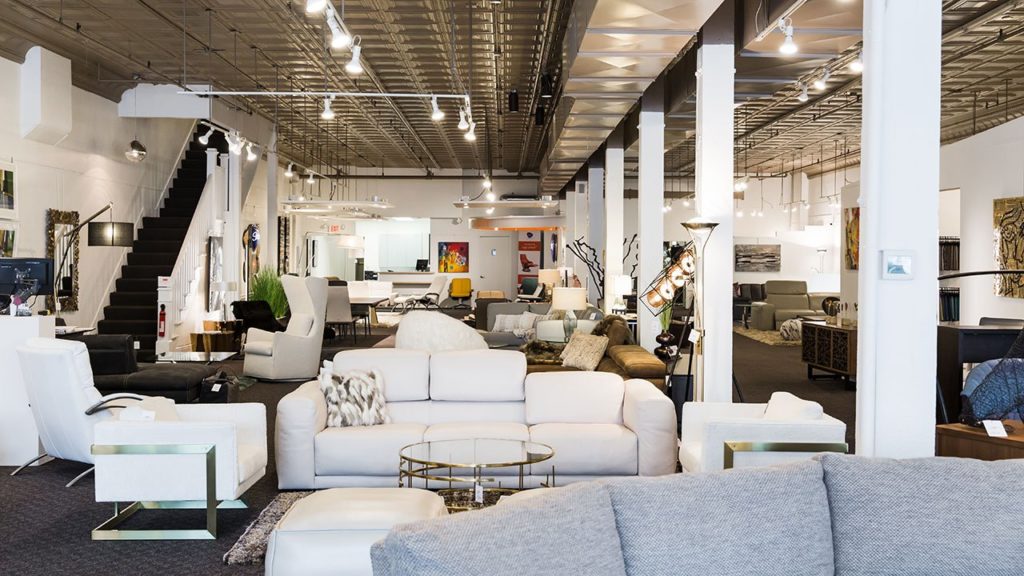 Rosenthal Interiors will open May 12 in the former Famous Footwear spot at 13153 Ridgedale Drive, a busy strip center anchored by Target and Lunds & Byerlys. The new Minnetonka store essentially becomes Rosenthal's flagship, offering full design services, high-end contemporary furnishings, and artwork from local artists. At 7,000 square feet, the space is less than half the size of the historic Rosenthal Interiors building at Fifth Street and First Avenue in Minneapolis.
The downtown store will focus on downtown living, featuring smaller scale designs and the retailer's Stressless gallery with ergonomic recliners and sofas from the exclusive Scandinavian brand that boasts a cult-like following. Downtown will also serve as Rosenthal's clearance center for marked down floor samples. With the showroom floor condensed, Rosenthal Interiors plans to lease part of its top floor to a CBD company.
The 17,000s-square-foot building at 22 N. Fifth Street is listed on the historic registry, which can make renovations tricky. The furniture store completed a major remodel in 2017 that took it more upscale as Rosenthal Interiors tried to establish itself as the Twin Cities destination for luxury contemporary furnishings—including $16,000 sleek Italian sectionals and glass top tables that expand at the push of a button. The reboot was a success, Rosenthal said. "We went from selling a sofa here, a chair there to doing an entire room. We didn't need as many clients."
Covid, and downtown's subsequent struggles, wiped out that progress.
"We had to pick a place with traffic," Rosenthal said. Many of her top clients live in the west metro, not far from the new Minnetonka store. "I just couldn't let it bleed with all of our people and talent."
Rosenthal is the fourth generation to lead the store started in 1895 by Aaron and Rose Rosenthal.
The downtown store is closed this week to prepare for next week's Minnetonka opening.